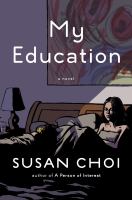 Chois first novel was an Asian-American Literary Award winner, her second a finalist for the Pulitzer Prize, and her third a finalist for the 2009 PEN/Faulkner Award, and she recently received the PEN/W.G. Sebald Award. So pay attention to her latest, a study of catastrophic desire. Having heard that Professor Nicholas Brodeur has a way with women, graduate student Regina Gottlieb approaches him gingerly but ends up overwhelmed by his physical appeal-and curious about his charismatic wife. With a four-city tour.
---
An intimately charged novel of desire and disaster from the author of "American Woman" and "A Person of Interest"
Regina Gottlieb had been warned about Professor Nicholas Brodeur long before arriving as a graduate student at his prestigious university high on a pastoral hill. He s said to lie in the dark in his office while undergraduate women read couplets to him. He s condemned on the walls of the women s restroom, and enjoys films by Roman Polanski. But no one has warned Regina about his exceptional physical beauty or his charismatic, volatile wife.
"My Education" is the story of Regina s mistakes, which only begin in the bedroom, and end if they do fifteen years in the future and thousands of miles away. By turns erotic and completely catastrophic, Regina s misadventures demonstrate what can happen when the chasm between desire and duty is too wide to bridge."