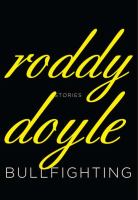 Man Booker Prize winner for Paddy Clarke Ha Ha Ha, Doyle here offers his second collection of short stories, which presents a panorama of contemporary Ireland by presenting ordinary men making their ordinary way through life. Eight of the 13 stories appeared previously in The New Yorker. Roddy Doyle rah rah rah; get for all smart readers.
---
The Man Booker Prize-winning author takes the pulse of modern Ireland with a masterful new collection of stories.

Roddy Doyle has earned a devoted following for his wry wit, his uncanny ear, and his ability to fully capture the hearts of his characters. Bullfighting, his second collection of stories, offers a series of bittersweet takes on men and middle-age, revealing a panorama of Ireland today. Moving from classrooms to local pubs to bullrings, these tales feature an array of men taking stock and reliving past glories, each concerned with loss in different ways-of their place in the world, of their power, their virility, health, and love. "Recuperation" follows a man as he sets off on his daily prescribed walk around his neighborhood, the sights triggering recollections of his family and his younger days. In "Animals", George recalls caring for his children's many pets and his heartfelt effort to spare them grief when they died or disappeared. The title story captures the mixture of bravado and helplessness of four friends who go off to Spain on holiday. Sharply observed, funny, and moving, these thirteen stories present a new vision of contemporary Ireland, of its woes and triumphs, and middle- aged men trying to break out of the routines of their lives.