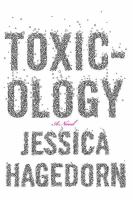 Departing from familiar territory (that is, the Philippines), Hagedorn takes us to Manhattan's West Village to visit Mimi Smith, a maker of low-budget slasher films who's struggling with a wild daughter and newly sober brother, and neighbor Eleanor Delacroix, an elderly, gin- and cocaine-addicted writer of erotic fiction. Hagedorn proved she could write with her National Book Award finalist, Dogeaters, and literary types should be intrigued.
---
A bold new novel about the intersection of art, love, fame, and money from the acclaimed author of Dogeaters.

Jessica Hagedorn's edgy and entertaining new novel centers on the lives of two women who are neighbors in Manhattan's West Village. Mimi Smith is a filmmaker of low-budget slasher movies in search of new material. Her neighbor Eleanor Delacroix is a legendary writer of erotic fiction, now nearing eighty and addicted to cocaine and gin. Their personal and artistic lives begin to collide in unexpected ways as Eleanor grieves over the recent death of her live-in lover, the renowned painter Yvonne Wilder, and as Mimi deals with the challenges presented by her newly sober brother Carmelo; her drug-dealing boyfriend, who has mysteriously disappeared; and her wayward fourteen-year-old daughter, Violet. Looming over all these characters is the ghost of Agnes-an "illegal" and cousin of Mimi's who might have been murdered by her New Jersey employers. Toxicology is a dark yet playful exploration of money, desire, mortality, and the connection between creativity and self-destruction.