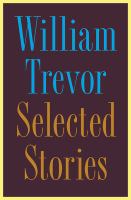 Aside from 14 novels, Trevor published 12 collections of short stories, with the first "collected" appearing in 1993. This second volume includes 48 stories from four succeeding collections. Trevor is an absolute master-he's won four O. Henrys and three Whitbreads-and this should work well as either introduction or replacement for those battered copies of the originals.
---
A marvelous collection from "the greatest living writer of short stories in the English language" ("The New Yorker").
Four-time winner of the O. Henry Prize, three-time winner of the Whitbread Prize, and five-time finalist for the Man Booker Prize, William Trevor is one of the most acclaimed authors of our time. Over a career spanning more than half a century, Trevor has crafted exquisitely rendered tales that brilliantly illuminate the human condition. Bringing together forty-eight stories from "After Rain, The Hill Bachelors, A Bit on the Side," and "Cheating at Canasta," this second volume of Trevor's collected fiction offers readers "treasures of gorgeous writing, brilliant dialogue, and unforgettable lives" ("The New York Times Book Review").