Summary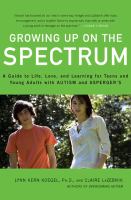 The first comprehensive guide to helping teens with autism

Adolescence is a fraught time for any child. But what if your child is among the more than half million currently estimated to fall on the autistic spectrum? The toddlers diagnosed during the first wave of this epidemic are growing up, and there is alarmingly little information available on how to guide them to independent and successful adulthood.

At the renowned Koegel Autism Research Center in Santa Barbara, Lynn Koegel regularly helps parents tackle these issues every day. Like the acclaimed Overcoming Autism, Growing Up on the Spectrumintegrates Koegel's strategies and interventions with the questions and concerns of Claire LaZebnik, a writer and the parent of a teenager with autism. Additional pieces by LaZebnik's sixteen-year-old son Andrew offer a unique first-person perspective.

Addressing universal parental concerns, from first crushes, a changing body, and the challenges of being socially appropriate to how to succeed at college and beyond, this inspiring volume is the beacon of hope and wisdom that parents, therapists, and educators have been waiting for.