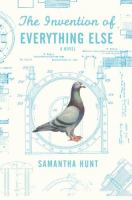 "From the author of the debut novel The Seas comes this new novel about an unlikely friendship between the eccentric inventor Nikola Tesla and a young chambermaid in the Hotel New Yorker, where Tesla lives out his last days." "From the moment on New Year's Day 1943 when she first catches sight of the strange man who occupies a forbidden room on the 33rd floor, Louisa, enthralled by radio dramas and the secret lives of the hotel guests, is determined to befriend him. Winning Tesla's attention through a shared love of pigeons, Louisa - thanks to her finely honed snooping skills - eventually uncovers the story of Tesla's life as a Serbian immigrant and a visionary genius: as a boy he built engines powered by June bugs, as a man he dreamt of pulling electricity from the sky. As Louisa unpeels the layers of Tesla's past, she begins to glimpse the man who, though once esteemed by many, forbade himself human connection. Meanwhile, Louisa - facing her father's imminent departure in a time machine in order to reunite with his late wife - gets swept off her feet by a mysterious mechanic (perhaps from the future) named Arthur. Before the week is out, Louisa must come to terms with her own understanding of love, death, and the power of invention."--BOOK JACKET.
---
New York City thrums with energy, wonder, and possibility in this magical novel about the life of Nikola Tesla.
It is 1943, and the renowned inventor Nikola Tesla occupies a forbidden room on the 33rd floor of the Hotel New Yorker, stealing electricity. Louisa, a young maid at the hotel determined to befriend him, wins his attention through a shared love of pigeons; with her we hear his tragic and tremendous life story unfold. Meanwhile, Louisa discovers that her father and her handsome, enigmatic love interest, Arthur Vaughan are on an unlikely mission to travel back in time and find his beloved late wife. A masterful hybrid of history, biography, and science fiction, "The Invention of Everything Else" is an absorbing story about love and death and a wonderfully imagined homage to one of history's most visionary scientists."