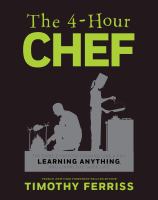 The 4-Hour Chef: The Simple Path to Cooking Like a Pro, Learning Anything, and Living the Good Life builds upon Timothy Ferriss's internationally successful âŒ4-hour❠series by transforming the way we cook, eat, and--most important--learn. Ferriss, nominated as one of Fast Company's âŒMost Innovative Business People of 2007❠and Forbes magazine's âŒNames You Need to Know in 2011,❠is author of the #1 New York Times best sellers The 4-Hour Body and The 4-Hour Workweek, the latter of which has been translated into 35 languages and has been on the New York Times Best Sellers list for more than four years unbroken.


Featuring recipes and cooking tricks from world-renowned chefs, interspersed with the radically counterintuitive advice Ferriss's fans have come to expect, The 4-Hour Chef is a practical but unusual guide to mastering food and cooking, whether you are a seasoned pro or a blank-slate novice.


Beyond that, it is designed to be "the cookbook for people who don't buy cookbooks." The 4-Hour Chef will teach Ferriss's approach to learning any skill in minimum time, which is what his 1,000,000+ monthly blog readers have most requested he write about for nearly five years. Readers of this new book, using food as a vehicle, will learn the art and science of meta-learning--the skill of learning skills.