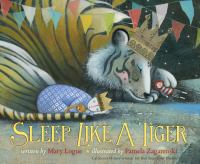 In an innovative bedtime book for young readers, the fresh look of Caldecott Honor Medalist Pamela Zagarenski's luminous illustrations paired with Mary Logue's poetic and unadorned language frame the very simple-sounding question: does everything in the world go to sleep? This is a book certain to give you good dreams!
---
2013 Randolph Caldecott Honor Award

In this magical bedtime story, the lyrical narrative echoes a Runaway Bunny - like cadence: "Does everything in the world go to sleep?" the little girl asks. In sincere and imaginative dialogue between a not-at-all sleepy child and understanding parents, the little girl decides "in a cocoon of sheets, a nest of blankets," she is ready to sleep, warm and strong, just like a tiger. The Caldecott Honor artist Pamela Zagarenski's rich, luminous mixed-media paintings effervesce with odd, charming details that nonsleepy children could examine for hours. A rare gem.