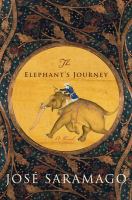 The tale of an elephant named Solomon who travels through sixteenth century Europe, from Lisbon to Vienna.
---
Long ago, an elephant named Solomon languished on the grounds of the palace of King Joao II of Portugal. Then in 1551 the king decided to give Solomon and his keeper to the Archduke Maximilian as a wedding present. Nobel prize winner Saramago re-imagines Solomon's journey to Vienna. Knowing Saramago, I expect this to be both biting and grand; of interest to all upscale readers.
---
A delightful, witty tale of friendship and adventure from prize-winning novelist José Saramago
In 1551, King João III of Portugal gave Archduke Maximilian an unusual wedding present: an elephant named Solomon. In José Saramago's remarkable and imaginative retelling, Solomon and his keeper, Subhro, begin in dismal conditions, forgotten in a corner of the palace grounds. When it occurs to the king and queen that an elephant would be an appropriate wedding gift, everyone rushes to get them ready: Subhro is given two new suits of clothes and Solomon a long overdue scrub. Accompanied by the Archduke, his new wife, and the royal guard, these unlikely heroes traverse a continent riven by the Reformation and civil wars, witnessed along the way by scholars, historians, and wide-eyed ordinary people as they make their way through the storied cities of northern Italy; they brave the Alps and the terrifying Isarco and Brenner Passes; across the Mediterranean Sea and up the Inn River; and at last, toward their grand entry into the imperial city.