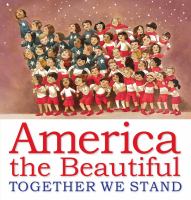 A moving celebration of "America the Beautiful" featuring artwork from ten distinguished artists and inspiring presidential quotes!
From George Washington to Barack Obama, each of our presidents has had a unique vision of America. In America the Beautiful, these ideas are translated into gorgeous illustrations by such top artists as Bryan Collier, Jon J Muth, Diane Goode, Mary GrandPré, Raul Colon, Sonia Lynn Sadler, Yuyi Morales, John Hendrix, LeUyen Pham, and Chris Soentpiet. Each of these talented illustrators has found a unique way to interpret the values and beliefs that have built our great country.
Through moving illustrations from some of the most distinguished artists, America the Beautiful integrates the lyrics of the familiar patriotic tune with inspiring presidential quotations. America the Beautiful will help teach children about our country's great leaders while highlighting American values such as diversity, unity, and freedom. In addition, the back cover will feature a quote from the acceptance speech of the winner of the 2012 presidential election.