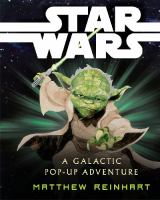 A brand-new explosive, interactive, pop-off-the-page book from New York Times bestseller Matthew Reinhart
Matthew Reinhart has crafted another spectacular pop-up book for George Lucas's epic Star Wars movies! The New York Times bestselling pop-up artist and engineer has created a brand-new 3-D experience, packed with a variety of novelty features-pop-ups, working lightsabers, pull tabs, and other interactive features.
This new look at Stars Wars explores elements, the characters, stories, vehicles, droids, and more in the three prequel movies and The Clone Wars. It's a stunning book that will impress fans of all ages and gives a whole new perspective to the Star Wars universe.