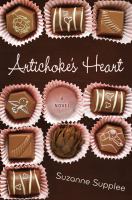 When she is almost sixteen years old, Rosemary decides she is sick of being overweight, mocked at school and at Heavenly Hair--her mother's beauty salon--and feeling out of control, and as she slowly loses weight, she realizes that she is able to cope with her mother's cancer, having a boyfriend for the first time, and discovering that other people's lives are not as perfect as they seem from the outside.
---
Blubber
meets
Steel Magnolias
in this funny and honest story about body image and family.
Rosemary Goode is smart and funny and loyal and the best eyebrow waxer in Spring Hill, Tennessee. But only one thing seems to matter to anyone, including Rosemary: her weight. And when your mom runs the most successful (and gossipy) beauty shop in town, it can be hard to keep a low profile. Rosemary resolves to lose the weight, but her journey turns out to be about everything but the scale. Her life-changing, waist-shrinking year is captured with brutal honesty and humor, topped with an extralarge helping of Southern charm. A truly uncommon novel about an increasingly common problem.