Summary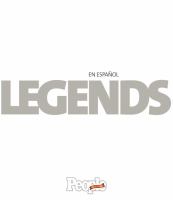 A gorgeous and timeless bilingual hardcover book immortalizing 100 iconic Hispanic legends in entertainment through photos and essays.
Itas the single most powerful entertainment print media for the Hispanic market. And now, People en EspaAol, the #1 Spanish-language magazine in the U.S., presents a historic book in both English and Spanish about the Hispanic Diasporaaand 100 of its best-known faces in entertainment.
From Jennifer Lopez to Celia Cruz, People en EspaAol has gathered the fascinating life stories of 100 Hispanic entertainment icons. At once personal and universal, this timeless book celebrates all the generations and diverse cultures of Hispanics in America.
Brimming with vivid descriptions, touching personal statements, and full-color images throughout, this masterwork is sure to intrigue, enlighten, and inspire."