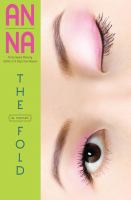 Korean American high school student Joyce Kim feels like a nonentity compared to her beautiful older sister, and when her aunt offers to pay for plastic surgery on her eyes, she jumps at the chance, thinking it will change her life for the better.
---
Joyce never used to care that much about how she looked, but that was before she met JFK--John Ford Kang, the most gorgeous guy in school. And it doesn't help that she's constantly being compared to her beautiful older sister, Helen. Then her rich plastic-surgery-addict aunt offers Joyce a gift to "fix" a part of herself she'd never realized needed fixing--her eyes. Joyce has heard of the fold surgery--a common procedure meant to make Asian women's eyes seem "prettier" and more "American"--but she's not sure she wants to go through with it. Her friend Gina can't believe she isn't thrilled. After all, the plastic surgeon has shown Joyce that her new eyes will make her look just like Helen--but is that necessarily a good thing?

Printz Award-winning author An Na has created a surprisingly funny and thought-provoking look at notions of beauty, who sets the standards and how they affect us all. Joyce's decision is sure to spark heated discussions about the beauty myths readers confront in their own lives.