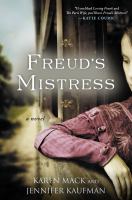 Coauthors of two best-selling novels, award-winning film and television producer Mack and two-time Penney-Missouri Journalism Award winner Kaufman move beyond the contemporary California settings theyve favored to envision an affair between Sigmund Freud and his sister-in-law, Minna Bernays. In 1895, Minna turns to her sister after losing her job as a ladys companion, and Freud, regarded as a nutcase by his colleagues, finds comfort in Minnas intellectual toughness. Was there an affair? A 2006 New York Times article suggested that there was.
---
His theories would change the world--and tear hers apart.
A page-turning novel inspired by the true-life love affair between Sigmund Freud and his sister-in-law.
It is fin-de-siecle Vienna and Minna Bernays, an overeducated ladys companion with a sharp, wry wit, is abruptly fired, yet again, from her position. She finds herself out on the street and out of options. In 1895, the city may be aswirl with avant-garde artists and revolutionary ideas, yet a womans only hope for security is still marriage. But Minna is unwilling to settle. Out of desperation, she turns to her sister, Martha, for help. Martha has her own problems--six young children and an absent, disinterested husband who happens to be Sigmund Freud. At this time, Freud is a struggling professor, all but shunned by his peers and under attack for his theories, most of which center around sexual impulses. And while Martha is shocked and repulsed by her husbands "pornographic" work, Minna is fascinated. Minna is everything Martha is not--intellectually curious, engaging, and passionate. She and Freud embark on what is at first simply an intellectual courtship, yet something deeper is brewing beneath the surface, something Minna cannot escape.
In this sweeping tale of love, loyalty, and betrayal--between a husband and a wife, between sisters--fact and fiction seamlessly blend together, creating a compelling portrait of an unforgettable woman and her struggle to reconcile her love for her sister with her obsessive desire for her sisters husband, the mythic father of psychoanalysis.