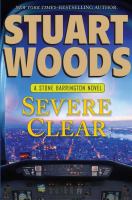 Woodss 50th novel-and protagonist Stone Barringtons 24th, if I am counting correctly-takes Barrington to Bel-Air, where a grand hotel called the Arrington is opening on the grounds of the mansion belonging to his late wife. Alas, terrorists threaten to upend the glittering gala.
---
Stone Barrington is called to Bel-Air to oversee an exclusive event that will gather the top echelons of the beau monde: Hollywood starlets, socialites, politicos, billionaires from overseas. It s a task in which Stone has a personal stake, and one that is made all the more pleasurable though somewhat more complicated with the arrivals of two beautiful women with whom he s intimately acquainted.
But the grand occasion has also attracted a dangerous criminal group with sinister plans. The hunt to find them leads Stone into a complex web of deceit and misdirection, in a world where the intrigues of government intelligence collide with the clandestine machinations of the upper crust. As he draws nearer to his quarry, he realizes that the stakes are higher than anybody could ever imagine . . . and that the enemies he s seeking might just be hiding in plain sight."