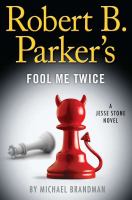 Paradise, MA, is no paradise for Marisol Hinton, whos there to film a movie even as she anguishes over the unrelenting jealousy of her estranged husband. Then she receives a death threat, and Jesse Stone swings into action. Brandman wrote 2011s best-selling Robert B. Parkers Killing the Blues and has written and/or produced a bunch of Parker adaptations for CBS.
---
Summer in Paradise, Massachusetts, is usually an idyllic season? but not this time. A Hollywood movie company has come to town, and brought with it a huge cast, crew, and a troubled star. Marisol Hinton is very beautiful, reasonably talented, and scared out of her wits that her estranged husband's jealousy might take a dangerous turn. When she becomes the subject of a death threat, Jesse and the rest of the Paradise police department go on high alert.
And when Jesse witnesses a horrifying collision caused by a distracted teenage driver, the political repercussions of her arrest bring him into conflict with the local selectment, the DA, and some people with very deep pockets. There's murder in the air, and it's Jesse's reputation as an uncompromising defender of the law and his life on the line."