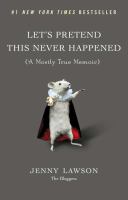 Shes famed on the Internet as the Bloggess ("like Mother Teresa, only better") and also writes an (I hope) tongue-in-check parenting column and a self-styled satirical sex column that must be sizzly because my office computer denies me access. Here, Lawson revisits her rural Texas childhood. With lots of media attention expected and comparisons to Chelsea Handler, this book is one to watch.
---
For fans of Tina Fey and David Sedaris—Internet star Jenny Lawson, aka The Bloggess, makes her literary debut.

Jenny Lawson realized that the most mortifying moments of our lives—the ones we'd like to pretend never happened—are in fact the ones that define us. In the #1 New York Timesbestseller,Let's Pretend This Never Happened, Lawson takes readers on a hilarious journey recalling her bizarre upbringing in rural Texas, her devastatingly awkward high school years, and her relationship with her long-suffering husband, Victor. Chapters include: "Stanley the Magical, Talking Squirrel"; "A Series of Angry Post-It Notes to My Husband"; "My Vagina Is Fine. Thanks for Asking"; "And Then I Snuck a Dead Cuban Alligator on an Airplane." Pictures with captions (no one would believe these things without proof) accompany the text.