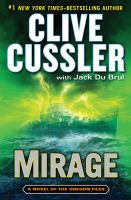 Rumor says that a weapon out there somewhere can obliterate American aircraft carriers-just as U.S. Navy experiments with electromagnetic radiation reputedly obliterated a U.S. destroyer in 1943. Could the new weapon be linked to the work of Nikola Tesla, and what is Juan Cabrillo doing about it? Cussler launched his career 40 years ago with The Mediterranean Caper, which appears in hardcover this summer for the first time.
---
The extraordinary new novel in the #1 New York Times–bestselling series from the grand master of adventure.

In October 1943, a U.S. destroyer sailed out of Philadelphia and supposedly vanished, the result of a Navy experiment with electromagnetic radiation. The story was considered a hoax—but now Juan Cabrillo and his Oregon colleagues aren't so sure.

There is talk of a new weapon soon to be auctioned, something very dangerous to America's interests, and the rumors link it to the great inventor Nikola Tesla, who was
working with the Navy when he died in 1943. Was he responsible for the experiment? Are his notes in the hands of enemies? As Cabrillo races to find the truth, he discovers there is even more at stake than he could have imagined—but by the time he realizes it, he may already be too late.