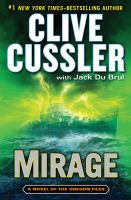 Juan Cabrillo is back, trying to make sense of the Philadelphia Experiment. In that little 1943 escapade, a U.S. destroyer was deliberately sent into a misted-over field of electromagnetic radiation-and promptly vanished. But now evidence of the experiment has hauntingly returned, with possible nasty consequences for U.S. security.
---
The extraordinary new novel in the #1 New York Times-bestselling series from the grand master of adventure.
In October 1943, a U.S. destroyer sailed out of Philadelphia and supposedly vanished, the result of a Navy experiment with electromagnetic radiation. The story was considered a hoax--but now Juan Cabrillo and his Oregon colleagues arent so sure.
There is talk of a new weapon soon to be auctioned, something very dangerous to Americas interests, and the rumors link it to the great inventor Nikola Tesla, who was
working with the Navy when he died in 1943. Was he responsible for the experiment? Are his notes in the hands of enemies? As Cabrillo races to find the truth, he discovers there is even more at stake than he could have imagined--but by the time he realizes it, he may already be too late.