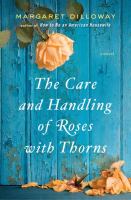 Gal Garner distracts herself from the high school biology class she teaches and the rigors of kidney disease (though shes only 36) by cultivating roses, which she carefully cross-pollinates with the hope of winning Queen of Show in competition. Then her teenage niece, daughter of her estranged sister, arrives without warning and upends everything. Not an uncommon plot, but theres lots of enthusiasm for this second novel, with a special emphasis on book club promotion, and Dilloways affecting How To Be an American Housewife won strong reviews.
---
Thirty-six-year-old Gal Garner lives a regimented life. Her job teaching biology and her struggle with kidney disease keep her toggling between the high school, the hospital, and her home on a strict schedule.

Only at home, in her garden, does Gal come alive. It's here that she experiments with Hulthemia roses, painstakingly cross-pollinating various specimens in the hopes of creating a brand-new variation of spectacular beauty. But even her passion has a highly structured goal: Gal wants to win Queen of Show in a major competition and bring that rose to market.

Then one afternoon Gal's teenaged niece Riley, the daughter of her estranged sister, arrives. Unannounced. Neither one of them will ever be the same.

Filled with gorgeous details of the art of rose breeding, The Care and Handling of Roses with Thorns is a testament to the redemptive power of love.