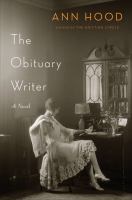 A sophisticated and suspenseful novel about the poignant lives of two women living in different eras.
---
In 1919, Vivien Lowe still hunts for a lover lost in the Great San Francisco Earthquake of 1906 even as she writes obituaries to help herself and others become reconciled to loss. Readers eventually uncover her connection to Claire, a young wife and mother who on the day of JFKs inauguration considers whether she should leave her safe, airless marriage for the man she loves. Theres a reading group guide and a seven-city tour for best-selling author Hood.
---
On the day John F. Kennedy is inaugurated, Claire, an uncompromising young wife and mother obsessed with the glamour of Jackie O, struggles over the decision of whether to stay in a loveless marriage or follow the man she loves and whose baby she may be carrying. Decades earlier, in 1919, Vivien Lowe, an obituary writer, is searching for her lover who disappeared in the Great San Francisco Earthquake of 1906. By telling the stories of the dead, Vivien not only helps others cope with their grief but also begins to understand the devastation of her own terrible loss. The surprising connection between Claire and Vivien will change the life of one of them in unexpected and extraordinary ways. Part literary mystery and part love story, The Obituary Writer examines expectations of marriage and love, the roles of wives and mothers, and the emotions of grief, regret, and hope.