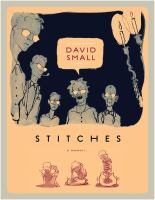 Caldecott Award-winning book illustrator Small has a shattering story to tell, and he tells it in pictures (just not for kids). His radiologist father experimented on him as a child, which led to his throat cancer and the removal of a vocal chord. Wisely, he left home at age 16 and found himself through art. Look for BEA and ALA appearances, and get multiples of this.
---
The prize-winning children's author depicts a childhood from hell in this searing yet redemptive graphic memoir.
One day David Small awoke from a supposedly harmless operation to discover that he had been transformed into a virtual mute. A vocal cord removed, his throat slashed and stitched together like a bloody boot, the fourteen-year-old boy had not been told that he had throat cancer and was expected to die. Small, a prize-winning children's author, re-creates a life story that might have been imagined by Kafka. Readers will be riveted by his journey from speechless victim, subjected to X-rays by his radiologist father and scolded by his withholding and tormented mother, to his decision to flee his home at sixteen with nothing more than dreams of becoming an artist. Recalling Running with Scissors with its ability to evoke the trauma of a childhood lost, Stitches will transform adolescent and adult readers alike with its deeply liberating vision.