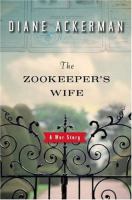 The New York Times bestseller soon to be a major motion picture starring Jessica Chastain.A true story in which the keepers of the Warsaw Zoo saved hundreds of people from Nazi hands.
---
"Jan and Antonina Zabinski were Polish Christian zookeepers horrified by Nazi racism, who managed to save over three hundred people. Yet their story has fallen between the seams of history." "Drawing on Antonina's diary and other historical sources, Diane Ackerman re-creates Antonina's life as "the zookeeper's wife," responsible for her own family, the zoo animals, and their "Guests" - Resistance activists and refugee Jews, many of whom Jan had smuggled from the Warsaw Ghetto. Ironically, the empty zoo cages helped to hide scores of doomed people, who were code-named after the animals whose cages they occupied. Others hid in the nooks and crannies of the house itself." "Ackerman explores the role of nature in both kindness and savagery, and she unravels the disturbing obsession at the core of Nazism: both a worship of nature and its violation, as humans sought to control the genome of the entire planet."--BOOK JACKET.
---
When Germany invaded Poland, Stuka bombers devastated Warsaw--and the city's zoo along with it. With most of their animals dead, zookeepers Jan and Antonina Zabinski began smuggling Jews into empty cages. Another dozen "guests" hid inside the Zabinskis' villa, emerging after dark for dinner, socializing, and, during rare moments of calm, piano concerts. Jan, active in the Polish resistance, kept ammunition buried in the elephant enclosure and stashed explosives in the animal hospital. Meanwhile, Antonina kept her unusual household afloat, caring for both its human and its animal inhabitants--otters, a badger, hyena pups, lynxes.With her exuberant prose and exquisite sensitivity to the natural world, Diane Ackerman engages us viscerally in the lives of the zoo animals, their keepers, and their hidden visitors. She shows us how Antonina refused to give in to the penetrating fear of discovery, keeping alive an atmosphere of play and innocence even as Europe crumbled around her.