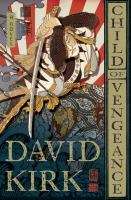 Kirk fell in love with Japan when his father gave him a copy of James Clavells Shogun, so its no surprise that his first novel is inspired by renowned samurai Musashi Miyamoto, author of the military/philosophical classic The Book of Five Rings. In late 1500s Japan, a well-born youth named Bennosuke nearly enters a monastery but comes to understand his role in society and embraces the warriors life, soon taking the name Musashi Miyamoto. First in a series; for fans of epic fiction.
---
A bold and vivid historical epic of feudal Japan, based on the real-life exploits of the legendary samurai Musashi Miyamoto.
Japan in the late 16th century was a land in turmoil. Lords of the great clans schemed against each other, served by aristocratic samurai bound to them by a rigid code of honor. Bennosuke is a high-born but lonely teenager living in his ancestral village. His mother died when he was a young boy, and his powerful warrior father Munisai has abandoned him for a life of service to his Lord, Shinmei. Bennosuke has been raised by his uncle Dorinbo, a monk who urges the boy to forgo the violence of the samurai and embrace the contemplative life. But Bennosuke worships his absent father, and when Munisai returns, gravely injured, Bennosuke is forced to confront truths about his familys history and his own place in it. These revelations soon guide him down the samurais path--awash with blood, bravery, and vengeance. His journey will culminate in the epochal battle of Sekigahara--in which Bennosuke will first proclaim his name as Mushashi Miyamoto. This rich and absorbing epic explores the complexities of one young mans quest while capturing a crucial turning point in Japanese history with visceral mastery, sharp psychological insight and tremendous narrative momentum.

"From the Hardcover edition."