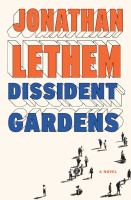 Lethem is the quintessential Brooklynite, so its intriguing to learn that the setting of his latest title is mainly Sunnyside Gardens, a planned community in New Yorks borough of Queens. The time is the 1950s and 1960s, the characters include three generations of American leftists, and the theme is the disillusionment that can come with fervent belief. Intensely anticipated-even the cover has received coverage.
---
A dazzling novel from one of our finest writers--an epic yet intimate family saga about three generations of all-American radicals
At the center of Jonathan Lethems superb new novel stand two extraordinary women. Rose Zimmer, the aptly nicknamed Red Queen of Sunnyside, Queens, is an unreconstructed Communist and mercurial tyrant who terrorizes her neighborhood and her family with the ferocity of her personality and the absolutism of her beliefs. Her brilliant and willful daughter, Miriam, is equally passionate in her activism, but flees Roses suffocating influence and embraces the Age of Aquarius counterculture of Greenwich Village.
Both women cast spells that entrance or enchain the men in their lives: Roses aristocratic German Jewish husband, Albert; her nephew, the feckless chess hustler Lenny Angrush; Cicero Lookins, the brilliant son of her black cop lover; Miriams (slightly fraudulent) Irish folksinging husband, Tommy Gogan; their bewildered son, Sergius. These flawed, idealistic people all struggle to follow their own utopian dreams in an America where radicalism is viewed with bemusement, hostility, or indifference.
As the decades pass--from the parlor communism of the 30s, McCarthyism, the civil rights movement, ragged 70s communes, the romanticization of the Sandinistas, up to the Occupy movement of the moment--we come to understand through Lethems extraordinarily vivid storytelling that the personal may be political, but the political, even more so, is personal.
Brilliantly constructed as it weaves across time and among characters, "Dissident Gardens" is riotous and haunting, satiric and sympathetic--and a joy to read.