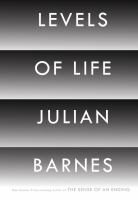 Not a conventional memoir-What did you expect from the multi-award-winning author of The Sense of an Ending?-this book aims to "put together two things that have not been put together before, and the world is changed." Barnes talks about ballooning and Sarah Bernhardt, then reflects on his own life to convey an experience of heartrending loss.
---
An NPR Best Book of the Year
A Daily Candy Best Book of the Year
Julian Barnes, author of the Man Booker Prize winning novel The Sense of an Ending, gives us his most powerfully moving book yet, beginning in the nineteenth century and leading seamlessly into an entirely personal account of loss making Levels of Life an immediate classic on the subject of grief.
Levels of Life is a book about ballooning, photography, love and loss; about putting two things, and two people, together, and about tearing them apart. One of the judges who awarded Barnes the 2011 Booker Prize described him as an unparalleled magus of the heart. This book confirms that opinion.
Spare and beautiful...abook of rare intimacy and honesty about love and grief. To read it is a privilege. To have written it is astonishing. Ruth Scurr, The Times of London
A remarkable narrative that is as raw in its emotion as it is characteristically elegant in its execution. Eileen Battersby, The Irish Times

"