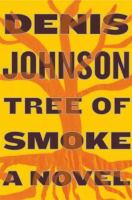 From the author of "Jesus Son," a long-awaited tale of two American families swept up in the secrets and lies of the Vietnam war. Chris Offutt writes ""Tree of Smoke" is a masterpiece."
---
"This is the story of William "Skip" Sands, CIA - engaged in Psychological Operations against the Vietcong - and the disasters that befall him. This is also the story of the Houston brothers, Bill and James, young men who drift out of the Arizona desert and into a war where the line between disinformation and delusion has blurred away. In its vision of human folly, this is a story like nothing in our literature."--BOOK JACKET.
---
This book chronicles the story of Skip Sands--spy-in-training, whos engaged in psychological operations against the Vietcong--and the disasters that befall him thanks to his famous uncle, a war hero known in intelligence circles simply as the Colonel.