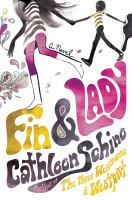 As evidenced by The Three Weissmanns of Westport, Schine deals wisely with family ups and downs. So she should do well with this story of orphaned 11-year-old Fin, who suddenly finds himself in the care of older half-sister Lady, whom he hasnt seen for years. She quickly moves him from rural Connecticut to Greenwich Village, and since its the Sixties, we get great social backdrop as Fin learns to open his eyes.
---
From the author ofThe Three Weissmanns of Westport, a wise, clever story of New York in the '60s

It's 1964. Eleven-year-old Fin and his glamorous, worldly, older half sister, Lady, have just been orphaned, and Lady, whom Fin hasn't seen in six years, is now his legal guardian and his only hope. That means Fin is uprooted from a small dairy farm in rural Connecticut to Greenwich Village, smack in the middle of the swinging '60s. He soon learns that Lady-giddy, careless, urgent, and obsessed with being free-is as much his responsibility as he is hers.
So beginsFin & Lady, the lively, spirited new novel by Cathleen Schine, the author of the bestsellingThe Three Weissmanns of Westport. Fin and Lady lead their lives against the background of the '60s, the civil rights movement, and the Vietnam War-Lady pursued by ardent, dogged suitors, Fin determined to protect his impulsive sister from them and from herself.
From a writerThe New York Times has praised as "sparkling, crisp, clever, deft, hilarious, and deeply affecting,"Fin & Lady is a comic, romantic love story: the story of a brother and sister who must form their own unconventional family in increasingly unconventional times.