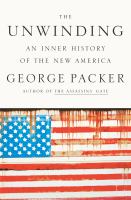 A riveting examination of a nation in crisis, from one of the finest political journalists of our generation

Our American democracy is beset by a sense of crisis. Seismic economic shifts during a single generation have created a country of winners and losers, leaving the social contract in pieces and setting citizens adrift to find new paths forward. In The Unwinding, George Packer narrates the story of this America over the past three decades with his characteristically sharp eye for detail and gift for weaving together complex narratives.

The Unwinding journeys through the lives of several Americans, including Dean Price, the son of tobacco farmers, and an evangelist for a new economy in the rural South; Tammy Thomas, a factory worker in the Rust Belt trying to survive the collapse of her city; Jeff Connaughton, a Washington insider who oscillates between political idealism and the lure of organized money; and Peter Thiel, a Silicon Valley billionaire who questions the Internet's significance and possesses a radical vision of the future.

The narrative combines these intimate stories with biographical sketches of the era's leading public figures from Newt Gingrich to Jay-Z, and with collages of headlines, slogans, and songs that capture the flow of events and undercurrents. The Unwinding portrays a superpower in danger of coming apart at the seams, its elites no longer elite, its institutions no longer relevant, its ordinary people left to improvise their own schemes for success and salvation.