Summary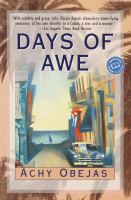 RICH AND SONOROUS PROSE . . . There s plenty of reason to hope for the future of a fiction that welcomes writers with such a passionate sense of the past.
San Jose Mercury News

On New Year s Day, 1959, Alejandra San Jose was born in Havana, entering the world through the heart of revolution. Fearing the turmoil brewing in Cuba, her parents took Ale and fled to the shores of North America ending up in Chicago amid a close community of Cuban refugees. As an adult, Ale becomes an interpreter, which takes her back to her homeland for the first time. There, she makes her way back through San Jose history, uncovering new fragments of truth about the relatives who struggled with their own identities so long ago. For the San Joses, ostensibly Catholics, are actually Jews. They are conversos who converted to Christianity during the Spanish Inquisition. As Alejandra struggles to confront what it is to be Cuban and American, Catholic and Jewish, she translates her father s troubling youthful experiences into the healing language of her own heart.
Lyrically written, Days of Awe reflects the way Cuban Spanish is spoken with poetic rhythm and frankness.
Ms.

An ambitious work . . . A deft talent whose approach to sex, religion, and ethnicity is keenly provocative.
Miami Herald

With intelligent, intense writing, Obejas approaches . . . the heady climes of Cuban American stalwarts Oscar Hijuelos and Cristina Garcia.
Library Journal (starred review)
"