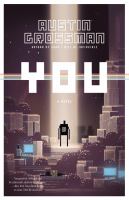 Russell is happy to be a part of Black Arts, the soaring new games studio where the industrys techiest techs work in unison. But the studios hot new game seems to be suffering from a software glitch, and Russell finds himself in a race to save the game, his job, and his friends. The trouble dates back 20 years to some very human bugs. Expect Grossman, author of the best-selling Soon I Will Be Invincible and the creator of several popular games (Deus Ex, anyone?), to deliver sleek techno-brilliance with heart. If the name and face seem familiar, know that Grossman is Magicians author and Time book critic Lev Grossmans twin.
---
When Russell joins Black Arts games, brainchild of two visionary designers who were once his closest friends, he reunites with an eccentric crew of nerds hacking the frontiers of both technology and entertainment. In part, he's finally given up chasing the conventional path that has always seemed just out of reach. But mostly, he needs to know what happened to Simon, his strangest and most gifted friend, who died under mysterious circumstances soon after Black Arts' breakout hit.
As the company's revolutionary next-gen game is threatened by a software glitch, Russell finds himself in a race to save his job, Black Arts' legacy, and the people he has grown to care about. The deeper Russell digs, the more dangerous the glitch appears--and soon, Russell comes to realize there's much more is at stake than just one software company's bottom line.