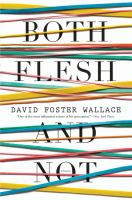 So the Pulitzer people didnt think he deserved a prize. The late Wallace is still the great, original, uncompromised voice of the last few decades of American literature. This collection of 15 essays never available in book format includes early work not easily accessed, along with classics like "Federer Both Flesh and Not." Wallace isnt just a key fiction writer; the collections Consider the Lobster and A -Supposedly Fun Thing Ill Never Do Again jointly count over 300,000 copies in print.
---
Brilliant, dazzling, never-before-collected nonfiction writings by "one of America's most daring and talented writers." (Los Angeles Times Book Review).
"Both Flesh and Not" gathers fifteen of Wallace's seminal essays, all published in book form for the first time.
Never has Wallace's seemingly endless curiosity been more evident than in this compilation of work spanning nearly 20 years of writing. Here, Wallace turns his critical eye with equal enthusiasm toward Roger Federer and Jorge Luis Borges; "Terminator 2" and "The Best of the Prose Poem"; the nature of being a fiction writer and the quandary of defining the essay; the best underappreciated novels and the English language's most irksome misused words; and much more.
"Both Flesh and Not" restores Wallace's essays as originally written, and it includes a selection from his personal vocabulary list, an assembly of unusual words and definitions.