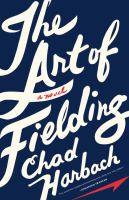 Having founded the estimable literary journal n + 1, Harbach was ready for the next challenge: his first novel. His hero, Henry Skrimshander, is a rising baseball star at Wetish College whose life goes off course when he throws a wayward ball. Henry starts to doubt himself, even as team captain Mike Schwartz pushes Henry's career. Meanwhile, Henry's gay roommate pursues a risky affair; college president Guert Affenlight falls hopelessly in love; and Guert's daughter, Pella, returns to campus after ending a disastrous marriage. Harbach's smart reputation and obvious sense of whimsy are pluses, and there's that intriguing stack of relationships. Great publisher expectations, too. Check it out.
---
At Westish College, a small school on the shore of Lake Michigan, baseball star Henry Skrimshander seems destined for big league stardom. But when a routine throw goes disastrously off course, the fates of five people are upended.
Henry's fight against self-doubt threatens to ruin his future. College president Guert Affenlight, a longtime bachelor, has fallen unexpectedly and helplessly in love. Owen Dunne, Henry's gay roommate and teammate, becomes caught up in a dangerous affair. Mike Schwartz, the Harpooners' team captain and Henry's best friend, realizes he has guided Henry's career at the expense of his own. And Pella Affenlight, Guert's daughter, returns to Westish after escaping an ill-fated marriage, determined to start a new life.
As the season counts down to its climactic final game, these five are forced to confront their deepest hopes, anxieties, and secrets. In the process they forge new bonds, and help one another find their true paths. Written with boundless intelligence and filled with the tenderness of youth, "The Art of Fielding "is an expansive, warmhearted novel about ambition and its limits, about family and friendship and love, and about commitment--to oneself and to others.