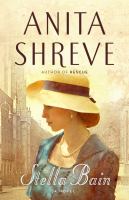 Shreve, who handles contemporary and historical fiction with equal grace, here takes us to World War I London for a probing psychological drama. An American woman named Stella Bain, found shell-shocked in a garden, is kindly taken in by surgeon August Bridge and his wife. They soon learn that she was working as a nurses aide at the front but has no memory of her life before being discovered wounded on the battlefield. Perennial best seller Shreve-more than 12 million copies of her novels have been sold in the United States alone-catches our interest with a story of love, memory, and a war now much on our minds.
---
An epic story, set against the backdrop of World War I, from bestselling author Anita Shreve.

When an American woman, Stella Bain, is found suffering from severe shell shock in an exclusive garden in London, surgeon August Bridge and his wife selflessly agree to take her in.

A gesture of goodwill turns into something more as Bridge quickly develops a clinical interest in his houseguest. Stella had been working as a nurse's aide near the front, but she can't remember anything prior to four months earlier when she was found wounded on a French battlefield.

In a narrative that takes us from London to America and back again, Shreve has created an engrossing and wrenching tale about love and the meaning of memory, set against the haunting backdrop of a war that destroyed an entire generation.