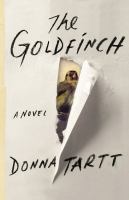 In Tartts much-anticipated latest, following 1992s The Secret History and 2002s The Little Friend, young Theo survives an accident that kills his mother. Abandoned by his father, he lives with a friends family in New York, where his obsession with a small painting that reminds him of his mother leads him to the art underworld. With a 250,000-copy first printing and whats billed as a social media extravaganza.
---
The author of the classic bestsellers "The Secret History" and "The Little Friend" returns with a brilliant, highly anticipated new novel.
A young boy in New York City, Theo Decker, miraculously survives an accident that takes the life of his mother. Alone and abandoned by his father, Theo is taken in by a friends family and struggles to make sense of his new life. In the years that follow, he becomes entranced by one of the few things that reminds him of his mother: a small, mysteriously captivating painting that ultimately draws Theo into the art underworld. Composed with the skills of a master, "The Goldfinch" is a haunted odyssey through present-day America, and a drama of almost unbearable acuity and power. It is a story of loss and obsession, survival and self-invention, and the enormous power of art.