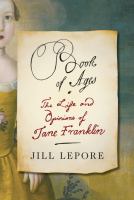 A Bancroft Prize winner and chair of Harvards history and literature program, Lepore offers a study of someone virtually unknown-Jane Franklin, the sister of Benjamin Franklin and one of his closest confidantes. Lepore draws on recently discovered documents, objects, and portraits to tell her story, which inevitably limns not just an unusual woman but an unusual time in American history.
---
From one of our most accomplished and widely admired historians--a revelatory portrait of Benjamin Franklin's youngest sister, whose obscurity and poverty were matched only by her brother's fame and wealth but who, like him, was a passionate reader, a gifted writer, and an astonishingly shrewd political commentator.

It is a life that has never been examined before: that of the sister of one of the most remarkable men of their time, living unknown to the world at large, but a constant presence and influence in her brother's life through their correspondence (he wrote more letters to her than to anyone else). Making use of an astonishing cache of little-studied material, including documents, objects, and portraits only just discovered, Jill Lepore brings Jane Franklin to life in a way that illuminates not only this one extraordinary woman but an entire world. Lepore's life of Jane Franklin, with its strikingly original vantage on Benjamin Franklin, is at once a wholly different account of the founding and one of the great untold stories of American history and letters.