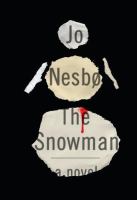 After his mother disappears, young Jonas finds a snowman on the lawn with her pink scarf about its neck. Other women vanish into Oslo's frigid air, and police investigator Harry Hole finds himself driven to the brink by a particularly dexterous and menacing killer. A Glass Key award winner who has helped put Scandinavian crime fiction on top (five million copies of his books have been sold worldwide), Nesbo here switches to a new American publisher-the very one that gave us Stieg Larsson. Essential for thriller collections; with a six-city tour.
---
Internationally acclaimed crime writer Jo Nesbo's antihero police investigator, Harry Hole, is back: in a bone-chilling thriller that will take Hole to the brink of insanity.
Oslo in November. The first snow of the season has fallen. A boy named Jonas wakes in the night to find his mother gone. Out his window, in the cold moonlight, he sees the snowman that inexplicably appeared in the yard earlier in the day. Around its neck is his mother's pink scarf.
Hole suspects a link between a menacing letter he's received and the disappearance of Jonas's mother--and of perhaps a dozen other women, all of whom went missing on the day of a first snowfall. As his investigation deepens, something else emerges: he is becoming a pawn in an increasingly terrifying game whose rules are devised--and constantly revised--by the killer.
Fiercely suspenseful, its characters brilliantly realized, its atmosphere permeated with evil, The Snowman is the electrifying work of one of the best crime writers of our time.