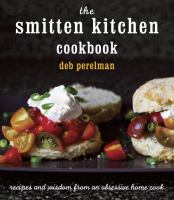 Just ask the Smitten Kitchens 63,000 Facebook followers or its four million unique visitors per month: Perelmans supremely helpful, visually stunning, wittily worded food blog really did deserve to be named one of 2011s best blogs by Time magazine. (I know because I just visited it.) Perelmans recipes are accessible but not Betty Crocker plain; this is fun, energized eating.
---
Winner of the IACP First Book Award * Named one of" Cooking Light" magazines Top 100 Cookbooks of the Last 25 Years
The long-awaited cookbook by Deb Perelman of Smitten Kitchen--home cook, photographer, and celebrated food blogger.
Deb Perelman loves to cook. She isnt a chef or a restaurant owner--shes never even waitressed. Cooking in her tiny Manhattan kitchen was, at least at first, for special occasions--and, too often, an unnecessarily daunting venture. Deb found herself overwhelmed by the number of recipes available to her. Have you ever searched for the perfect birthday cake on Google? Youll get more than three million results. Where do you start? What if you pick a recipe thats downright bad?
So Deb founded her award-winning blog, Smitten Kitchen, on the premise that cooking should be a pleasure, and that the results of your labor can--and should--be delicious . . . every time. Deb is a firm believer that there are no bad cooks, just bad recipes. She has dedicated herself to creating and finding the best of the best and adapting the recipes for the everyday cook.
And now, with the same warmth, candor, and can-do spirit her blog is known for, Deb presents her first cookbook: more than 100 recipes--almost entirely new, plus a few favorites from the site--all gorgeously illustrated with hundreds of her beautiful color photographs.
"The Smitten Kitchen Cookbook "is all about approachable, uncompromised home cooking. Here youll find better uses for your favorite vegetables: asparagus blanketing a pizza; ratatouille dressing up a sandwich; cauliflower masquerading as pesto. These are recipes youll bookmark and use so often they become your own, recipes youll slip to a friend who wants to impress her new in-laws, and recipes with simple ingredients that yield amazing results in a minimum amount of time. Deb tells you her favorite summer cocktail; how to lose your fear of cooking for a crowd; and the essential items you need for your own kitchen. From salads and slaws that make perfect side dishes (or a full meal) to savory tarts and galettes; from Mushroom Bourguignon to Chocolate Hazelnut Crepe Cake, Deb knows just the thing for a Tuesday night, or your most special occasion.