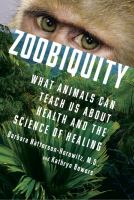 A cardiology professor at UCLAs David Geffen School of Medicine, Natterson-Horowitz was called in as a consultant when a monkey at the Los Angeles Zoo had heart failure. Subsequently, she launched an interdisciplinary study (here dubbed zoobiquity) of what animals and humans have in common in sickness and healing. Health care and animal-human bonding, its bound to attract attention.
---
In the tradition of Temple Grandin, Oliver Sacks, and Neil Shubin, cardiologist and psychiatrist Barbara Natterson-Horowitz and science writer Kathryn Bowers look at the remarkable correspondences between the way human beings and animals live, die, get sick, and heal in their natural settings, delving into an array of disciplines--evolution, anthropology, sociology, biology, cutting-edge medicine, and zoology--to provide a revelatory understanding of what animals can teach us about the human body and mind.

"Zoobiquity" is the term the authors have coined to refer to a new, species-spanning approach to health. After being called in to consult on a case of heart failure in a monkey at the Los Angeles Zoo, Natterson-Horowitz found herself launched on a journey of discovery that reshaped her entire approach to medicine. InZoobiquity,she uses fascinating case studies and scholarship to explore the ways in which what we know about animal and human commonality can be used to diagnose, treat, and ultimately heal human patients.