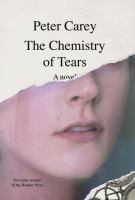 Twice a Booker Prize winner and a Commonwealth and Miles Franklin honoree as well, the incomparable Carey returns with a story of secret grief assuaged. A museum conservator in London, Catherine learns that her lover and colleague has died but hides her pain because he was a married man. Her boss, the only person who knew of her affair, seeks to help by having her work alone on a project involving a 19th-century automaton. When she discovers the diaries of Henry Brandling, the man who built the automaton, she enters into an understanding of the desire for invention, the magic of creation, and the healing power of love. An A-plus purchase.
---
An automaton, a man and a woman who can never meet, two stories of love—all are brought to incandescent life in this hauntingly moving novel from one of the finest writers of our time.

London 2010: Catherine Gehrig, conservator at the Swinburne museum, learns of the sudden death of her colleague and lover of thirteen years. As the mistress of a married man, she must struggle to keep the depth of her anguish to herself. The one other person who knows Catherine's secret—her boss—arranges for her to be given a special project away from prying eyes in the museum's Annexe. Usually controlled and rational, but now mad with grief, Catherine reluctantly unpacks an extraordinary, eerie automaton that she has been charged with bringing back to life.
As she begins to piece together the clockwork puzzle, she also uncovers a series of notebooks written by the mechanical creature's original owner: a nineteenth-century Englishman, Henry Brandling, who traveled to Germany to commission it as a magical amusement for his consumptive son. But it is Catherine, nearly two hundred years later, who will find comfort and wonder in Henry's story. And it is the automaton, in its beautiful, uncanny imitation of life, that will link two strangers confronted with the mysteries of creation, the miracle and catastrophe of human invention, and the body's astonishing chemistry of love and feeling.