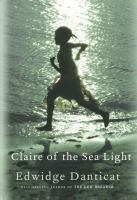 Danticats last book, the memoir Brother, Im Dying, was a National Book Critics Circle Award winner and a National Book Award finalist, and her fiction has won accolades, too; now this best-selling author returns to fiction for the first time in nine years. Claire Limye Lanme ("Claire of the Sea Light"), whose mother died in childbirth and whose fisherman father has made the wrenching decision to give her a better life by relinquishing her, goes missing just before her seventh birthday. As the entire community searches for her, secrets emerge that clarify our relationships with one another and with the natural world, even as we see the beauty and heartbreak of Haiti.
---
From the best-selling author of Brother, I'm Dying and The Dew Breaker: a stunning new work of fiction that brings us deep into the intertwined lives of a small seaside town where a little girl, the daughter of a fisherman, has gone missing.

Claire Limyè Lanmè--Claire of the Sea Light--is an enchanting child born into love and tragedy in Ville Rose, Haiti. Claire's mother died in childbirth, and on each of her birthdays Claire is taken by her father, Nozias, to visit her mother's grave. Nozias wonders if he should give away his young daughter to a local shopkeeper, who lost a child of her own, so that Claire can have a better life.

But on the night of Claire's seventh birthday, when at last he makes the wrenching decision to do so, she disappears. As Nozias and others look for her, painful secrets, haunting memories, and startling truths are unearthed among the community of men and women whose individual stories connect to Claire, to her parents, and to the town itself. Told with piercing lyricism and the economy of a fable, Claire of the Sea Light is a tightly woven, breathtaking tapestry that explores what it means to be a parent, child, neighbor, lover, and friend, while revealing the mysterious bonds we share with the natural world and with one another. Embracing the magic and heartbreak of ordinary life, it is Edwidge Danticat's most spellbinding, astonishing book yet.