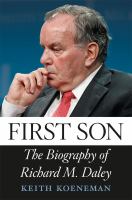 Richard M. Daley was Chicago's longest-serving mayor and, love him or hate him, one of the city's most powerful and transformative leaders. Keith Koeneman's biography will be the first book to tell Daley's story, and it is based on extensive archival research, interviews with some very hard-to-reach people, and deep knowledge of Chicago history. Koeneman follows Daley from his youth as a Bridgeport kid who lacked the talent and charisma of his father through his early immersion in the city's Democratic machine, to the personal evolution that began when the elder Mayor Daley died in 1976. We watch Daley navigate strong figures like Ed Burke and Jane Byrne to become State's Attorney in 1980 and mayor in 1989, and we see in these political battles a man distinguishing himself from his father and from the machine politics into which he was born. As mayor, Koeneman shows, Daley honed his considerable political skills while evolving into a talented chief executive, the clearest evidence of which is the physical transformation of Chicago's downtown and lakefront areas. Yet, Koeneman sets the often dramatic improvement of certain parts of the city alongside the persistent realities of crime, racial inequality, public housing, and non-functioning schools--all of the "unfinished business" handed down from father to son.  The book's assessment of the man himself is similarly mixed: if Daley evolved tremendously as a person and as a professional during his time in office, he could also fall back on tried-and-true Chicago politicking: rewarding loyalty with favors, using the resources of city government to overwhelm opponents, and tolerating (at the least) political corruption. This is a very well written and well paced trade biography that is certain to find an audience among those interested in Chicago history, politics, or any of the many fascinating figures who roam these pages--including the young Barack Obama.

---
"Mayor Richard M. Daley dropped the bomb at a routine news conference at City Hall on Tuesday. With no prelude or fanfare, Mr. Daley announced that he would not seek re-election when his term expires next year. 'Simply put, it's time, ' he said.""New York Times, September 7, 2010"
With those four words, an era ended. After twenty-two years, the longest-serving and most powerful mayor in the history of Chicago and, arguably, America stepped down, leaving behind a city that was utterly transformed, and a complicated legacy we are only beginning to evaluate.In"First Son," Keith Koeneman chronicles the sometimes Shakespearean, sometimes Machiavellian life of an American political legend. Making deft use of unprecedented access to key players in the Daley administration, as well as Chicago's business and cultural leaders, Koeneman draws on more than one hundred interviews to tell an up-close, insider story of political triumph and personal evolution.
With Koeneman as our guide, we follow young Daley from his beginnings as an average Bridgeport kid thought to lack his father's talent and charisma to his unlikely transformation into an iron-fisted leader. Daley not only escaped the giant shadow of his father but also transformed Chicago from a gritty, post-industrial Midwestern capital into a beautiful, sophisticated global city widely recognized as a model for innovative metropolises throughout the world.
But in spite of his many accomplishments, Richard M. Daley's record is far from flawless."First Son"sets the dramatic improvement of certain parts of the city against the persistent realities of crime, financial stress, failing public housing, and dysfunctional schools. And it reveals that while in many ways Daley broke with the machine politics of his father, he continued to reward loyalty with favors, use the resources of city government to overwhelm opponents, and tolerate political corruption.
A nuanced portrait of a complex man, "First Son"shows Daley to be sensitive yet tough, impatient yet persistent, a street-smart fighter and detail-driven policy expert who not only ran Chicago, but"was"Chicago."