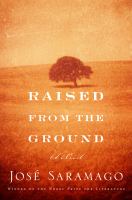 Even as it weathers financial storms, this publisher continues putting out works by the great Portuguese Nobel prize winner that have not yet been translated, and we can only be grateful. This latest, a City of Lisbon prize winner published in 1980, just before Saramago made his name with Baltasar and Blimunda, offers the authors classic understanding of the personal through larger historical forces. Like his own grandparents, members of the peasant Mau Tempo family work the land they dont own in southern Portugal, which is dominated by huge agricultural estates. Even as he details their daily lives, Saramago shows us the coming of the republic of Portugal, two world wars, the attempted assassination of Salazar, and, finally, the one thing that does change the rhythm of the Mau Tempos lives, the rise of communism.
---
A multigenerational family saga that paints a sweeping portrait of twentieth-century Portugal

First published in 1980, the City of Lisbon Prize-winningRaised from the Ground follows the changing fortunes of the Mau Tempo family--poor landless peasants not unlike Saramago's own grandparents. Set in Alentejo, a southern province of Portugal known for its vast agricultural estates, the novel charts the lives of the Mau Tempos as national and international events rumble on in the background--the coming of the republic in Portugual, the two World Wars, and an attempt on the dictator Salazar's life. Yet nothing really impinges on the grim reality of the farm laborers' lives until the first communist stirrings.

Finally available in English,Raised from the Ground is Saramago's most deeply personal novel, the book in which he found the signature style and voice that distinguishes all of his brilliant work.