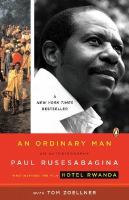 The riveting life story of Rusesabagina--the man whose heroism inspired the film "Hotel Rwanda"--is sure to become a classic of tolerance literature. "An Ordinary Man" explores what the film could not: the inner life of the man who became one of the most prominent public faces of that terrible conflict. 8-page photo insert.
---
A remarkable account of the amazing life story of the man who inspired the film Hotel Rwanda
Readers who were moved and horrified by Hotel Rwanda will respond even more intensely to Paul Rusesabagina's unforgettable autobiography. As Rwanda was thrown into chaos during the 1994 genocide, Rusesabagina, a hotel manager, turned the luxurious Hotel Milles Collines into a refuge for more than 1,200 Tutsi and moderate Hutu refugees, while fending off their would-be killers with a combination of diplomacy and deception. In An Ordinary Man, he tells the story of his childhood, retraces his accidental path to heroism, revisits the 100 days in which he was the only thing standing between his "guests" and a hideous death, and recounts his subsequent life as a refugee and activist.