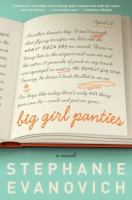 Rather too zaftig after turning to food for comfort during her husbands fatal illness, 32-year-old Holly Brennan is chagrined to be occupying the plane seat next to Logan Montgomery, personal trainer to star athletes. But hes intrigued by her sass and offers to help her get back in shape, which leads to a hot affair. Former actress/comedienne Evanovich gets a one-day laydown on July 9 and the 150,000-copy first printing.
---
Big Girl Panties by Stephanie Evanovich is a rollicking and poignant romantic comedy about a young widow who decides to get in shape...and winds up getting her groove back--and a whole lot more

Holly Brennan used food to comfort herself through her husband's illness and death. Now she's alone at age thirty-two. And she weighs more than she ever has. When fate throws her in the path of Logan Montgomery, personal trainer to pro athletes, and he offers to train her, Holly concludes it must be a sign. Much as she dreads the thought of working out, Holly knows she needs to put on her big girl panties and see if she can sweat out some of her grief.

Soon, the easy intimacy and playful banter of their training sessions lead Logan and Holly to most intense and steamy workouts. But can Holly and Logan go the distance as a couple now that she's met her goals--and other men are noticing?