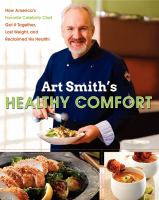 Chef Art Smith puts the power of healthy living within your reach with these delicious dishes. Discover some of the great recipes he created on his journey to health and wellness, and then prepared for his celebrity clients.
Bestselling author, Top Chef favorite, and award-winning chef Art Smith was discovering new innovations in the kitchen, including his beloved cuisine of the South, but neglecting to take care of himself. So he decided to make a change in the way he ate without giving up the foods he loved. By reimagining his favorite dishes and making exercise a regular part of his life, he lost 120 pounds and transformed both his body and his health. Art always knew that fine cooking is a way to show love to others-but now he saw it as a way to show love to yourself.
Art can't resist bringing people together through food. It's partly what made him the success he is today-and his unique reimag-ining of classic comfort dishes has added to his wide appeal. After ten years as Oprah Winfrey's personal chef, Smith now cooks for special events for celebrities all over the world. He has been a contributing editor to O, the Oprah Magazine and has made numerous television appearances, including on ABC's A Very Lady Gaga Thanksgiving, Bravo's Top Chef Masters, and ABC's Nightline.
There's no doubt about it: Art Smith's Healthy Comfort is about great cooking and good eating. But Smith also shares his personal journey to good health-including delectable dishes such as Three Cheese Macaroni, Unfried Chicken, and Grilled Hanger Steak with Slow-Roasted Tomatoes that you just won't be able to resist.
---
Art Smith, the award-winning, personal chef to Oprah Winfrey, returns to the kitchen with Art Smith's Healthy Comfort, a collection of 150 original, delicious recipes that will help you lose weight.
Over 100 pounds overweight and facing a personal health crisis that included diagnoses for diabetes, high blood pressure, and high cholesterol, Smith started to exercise and made changes to his diet while continuing to prepare scrumptious meals.
For the first time, he shares his weight-loss secrets and the recipes that helped him keep off the pounds. Filled with stunning full-color photos and easy-to-follow directions, Art Smith's Healthy Comfort is a culinary pleasure that will put you on the path to a new, healthy lifestyle.