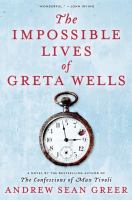 Like Greers The Confessions of Max Tivoli, one of my favorites and a New York Times best seller, this novel plays smartly with time. In 1985, Greta Wells is so distraught by her twin brothers death and her breakup with a longtime lover that she seeks therapy. The un-expected effect: she finds herself living alternate lives as a bohemian adulteress in 1918 and a dedicated wife and mother in 1941. With a 100,000-copy first printing.
---
1985. After the death of her beloved twin brother, Felix, and the breakup with her longtime lover, Nathan, Greta Wells embarks on a radical psychiatric treatment to alleviate her suffocating depression. But the treatment has unexpected effects, and Greta finds herself transported to the lives she might have had if shed been born in different eras.
During the course of her treatment, Greta cycles between her own time and alternate lives in 1918, where she is a bohemian adulteress, and 1941, which transforms her into a devoted mother and wife. Separated by time and social mores, Gretas three lives are remarkably similar, fraught with familiar tensions and difficult choices. Each reality has its own losses, its own rewards, and each extracts a different price. And the modern Greta learns that her alternate selves are unpredictable, driven by their own desires and needs.
As her final treatment looms, questions arise: What will happen once each Greta learns how to remain in one of the other worlds? Who will choose to stay in which life?
Magically atmospheric, achingly romantic, The Impossible Lives of Greta Wells beautifully imagines "what if" and wondrously wrestles with the impossibility of what could be.