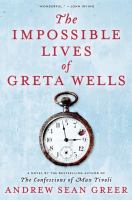 Like Greers The Confessions of Max Tivoli, one of my favorites and a New York Times best seller, this novel plays smartly with time. In 1985, Greta Wells is so distraught by her twin brothers death and her breakup with a longtime lover that she seeks therapy. The un-expected effect: she finds herself living alternate lives as a bohemian adulteress in 1918 and a dedicated wife and mother in 1941. With a 100,000-copy first printing.
---
From the critically acclaimed author of the New York Times bestseller The Confessions of Max Tivoli comes The Impossible Lives of Greta Wells, a rapturously romantic story of a woman who finds herself transported to the "other lives" she might have lived.
After the death of her beloved twin brother and the abandonment of her long-time lover, Greta Wells undergoes electroshock therapy. Over the course of the treatment, Greta finds herself repeatedly sent to 1918, 1941, and back to the present. Whisked from the gas-lit streets and horse-drawn carriages of the West Village to a martini-fueled lunch at the Oak Room, in these other worlds, Greta finds her brother alive and well—though fearfully masking his true personality. And her former lover is now her devoted husband…but will he be unfaithful to her in this life as well? Greta Wells is fascinated by her alter egos: in 1941, she is a devoted mother; in 1918, she is a bohemian adulteress.
In this spellbinding novel by Andrew Sean Greer, each reality has its own losses, its own rewards; each extracts a different price. Which life will she choose as she wrestles with the unpredictability of love and the consequences of even her most carefully considered choices?