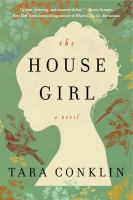 First-year law firm associate Lina Sparrow must find someone to serve as the face of a historic class-action lawsuit worth a fortune in reparations for descendants of American slaves. Since its now suspected that antebellum artist Lu Anne Bells empathetic depictions of slaves were the work of her house slave, Josephine, Lina is determined to track down one of Josephines descendants. A big push to book clubs; with a 75,000-copy first printing.
---
The House Girl, the historical fiction debut by Tara Conklin, is an unforgettable story of love, history, and a search for justice, set in modern-day New York and 1852 Virginia.
Weaving together the story of an escaped slave in the pre-Civil War South and a determined junior lawyer, The House Girl follows Lina Sparrow as she looks for an appropriate lead plaintiff in a lawsuit seeking compensation for families of slaves. In her research, she learns about Lu Anne Bell, a renowned prewar artist whose famous works might have actually been painted by her slave, Josephine.
Featuring two remarkable, unforgettable heroines, Tara Conklin's The House Girl is riveting and powerful, literary fiction at its very best.