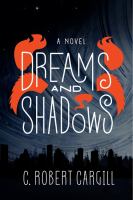 A noted screenwriter and film critic (his Sinister hits the big screen this month), Cargill launches his fiction career with the story of a supernatural world lying right up against our own, separated by only a thin veil. Ewan and Colby have been there and still remember angels, wizards, and fairies (I especially like the whiskey-toting genies). Now the magic is calling them back. Some twisty stuff here; pitched to fans of Neil Gaiman, Lev Grossman, Erin Morgenstern, and Kim Harrison and boasting a 40,000-copy first printing.
---
A brilliantly crafted modern tale from acclaimed film critic and screenwriter C. Robert Cargill--part Neil Gaiman, part Guillermo Del Toro, part William S. Burroughs--that charts the lives of two boys from their star-crossed childhood in the realm of magic and mystery to their anguished adulthoods
There is another world than our own--one no closer than a kiss and one no further than our nightmares--where all the stuff of which dreams are made is real and magic is just a step away. But once you see that world, you will never be the same.
Dreams and Shadows takes us beyond this veil. Once bold explorers and youthful denizens of this magical realm, Ewan is now an Austin musician who just met his dream girl, and Colby, meanwhile, cannot escape the consequences of an innocent wish. But while Ewan and Colby left the Limestone Kingdom as children, it has never forgotten them. And in a world where angels relax on rooftops, whiskey-swilling genies argue metaphysics with foul-mouthed wizards, and monsters in the shadows feed on fear, you can never outrun your fate.
Dreams and Shadows is a stunning and evocative debut about the magic and monsters in our world and in our self.