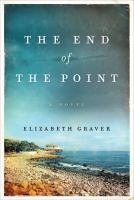 The Porter family, which has summered for generations at Ashaunt Point, a spit of land pushing into Buzzards Bay, MA, is entirely unsettled when the U.S. Army arrives there in 1942. The next generation tries and fails to find escape at Ashaunt Point as Vietnam looms. From Drue Henz Literature Prize winner Graver; perhaps not the biggest title here, but its loved in house.
---
Longlisted for the 2013 National Book Award for Fiction
Ashaunt Point, Massachusetts, has anchored life for generations of the Porter family, who summer along its remote, rocky shore. But in 1942, the U.S. Army arrives on the Point, bringing havoc and change. That summer, the two older Porter girls—teenagers Helen and Dossie—run wild while their only brother, Charlie, goes off to train for war. The children's Scottish nurse, Bea, falls in love. And youngest daughter Janie is entangled in an incident that cuts the season short.
An unforgettable portrait of one family's journey through the second half of the twentieth century, Elizabeth Graver's The End of the Point artfully probes the hairline fractures hidden beneath the surface of our lives and traces the fragile and enduring bonds that connect us.